Ich liebe neue Hotels. Ganz besonders, wenn sie auch noch stylisch sind. Du auch? Dann habe ich hier wieder einmal einen prima Hoteltipp für dich gefunden in Flims in der Schweiz. Nachdem ich bei der Eröffnung Ende 2018 bereits durch dieses Hotel geschlendert bin, war ich begeistert. In dieser Trendherberge in den Bündner Bergen musste ich unbedingt einmal eine Nacht verbringen. Diesen Oktober ist es endlich soweit. Gemeinsam mit dem grossen Globetrotter quartiere ich mich ins Hide Hotel ein.
Was du von diesem stylischen Hotel in Flims Graubünden Schweiz erwarten kannst, verrate ich dir in diesem Artikel.
Hoteltipp Flims Schweiz: Parken & Check-in in Style
Films ist so nahe von meinem Wohnort, dass ich öfters dort mal vorbei schaue. Das letzte Mal habe ich im Waldhaus wunderbar gegessen, geschlafen und im Spa relaxt. Jetzt sind wir wieder in diesen Bergort unterwegs. Die Fahrt nach Films dauert von mir zu Hause nur eine halbe Stunde. Schon fahren wir in das schicke Parkhaus des STENNA Films. Diese Mall direkt bei den Bergbahnen von Films wurde letzten Winter eröffnet. Hier findest du neben vielen Shopping-Möglichkeiten auch viel Unterhaltung für Gross und Klein. Und eben unser angepeiltes Hotel.
The Hide Films Hotel hat im riesigen Parkhaus einen eigenen Bereich. Die Parkplätze sind in poppigen Pink markiert. Passend für Travel Sisi!
Mit dem Lift fahren wir ins Erdgeschoss und finden die Lobby für den Check-in. Ein knisterndes Feuer sorgt hier für gemütliche Stimmung und ich möchte mich am liebsten in die mit Samt bezogenen Polstermöbel kuscheln. Aber jetzt geht es erst mal ins Zimmer.
Flims Schweiz: So muss ein Hotelzimmer sein
Davon hat es im The Hide genau 47. Alle sind ziemlich mutig gestaltet. Aber genau das macht dieses Hotel so cool. Mir gefällt die asymmetrische Tapete. Ich mag die kühle Betondecke. Auch die speziellen Fliesen im Bad finde ich toll.
Das Zimmer hat zudem genau die richtige Grösse, so dass man auch zu zweit mehr als genug Platz hat.
Und falls es dir doch zu eng wird, ist da noch der Balkon. Ein ziemlich grossartiger. Das bezieht sich nicht nur auf die Grösse, sondern auch auf die Aussicht. Genial! Dieses Zimmer entspricht also genau meinem Geschmack. Dem grossen Globetrotter gefällts auch.
Hoteltipp Films Schweiz: Wellnessen und Relaxen
Das Zimmer wäre eigentlich schön genug, um den Rest vom Tag hier zu verbringen. Das The Hide hat aber seit kurzem auch einen schicken Spa-Bereich. In den bereit gelegten Bademänteln und Schlapfen machen wir uns auf den Weg. Mit dem Lift kommen wir direkt in den Spa, der übrigens auch für externe Tagesbesucher über das STENNA Flims erreichbar ist.
Stylisch geht es auch hier im Spa des Hotels weiter. Und das auf grosszügigen 1'000m2.
Wir geniessen Dampfbad, Sanarium und finnische Sauna mit Panoramablick. Anschliessend relaxen und chillen wir noch ein wenig im schicken Ruheraum. Natürlich auch hier inklusive Aussicht auf die Bergwelt.
Hotel The Hide: Das Abendessen schmeckt
Lange können wir unseren Hunger mit den Knabbereien im Spa-Bereich nicht hinauszögern. Das Abendessen ruft. Eigentlich hast du im The Hide die Wahl zwischen zwei Restaurants, The Deli und The Hide Dining. Wir müssen uns nicht lange entscheiden, denn jetzt in der Nebensaison hat nur das Deli offen.
Hier ist die Atmosphäre locker und das Essen orientalisch angehaucht. Wir kombinieren das Angebot und es gibt Mezze zur Vorspeise und anschliessend Burger.
Unseren Tisch wählen wir in der Mitte des Lokals, denn sonst sieht man direkt hinaus in die leeren Hallen des STENNA Flims. Das finde ich nicht ganz so stimmig. Verbesserungspotential finde ich auch beim Burger. Die Pommes sind so normal wie in jeder Badi. Das hätte ich mir in diesem coolen Ambiente etwas innovativer gewünscht. Die Vorspeise lässt dafür definitiv keine Wünsche übrig und wir haben einen super Abend im The Deli.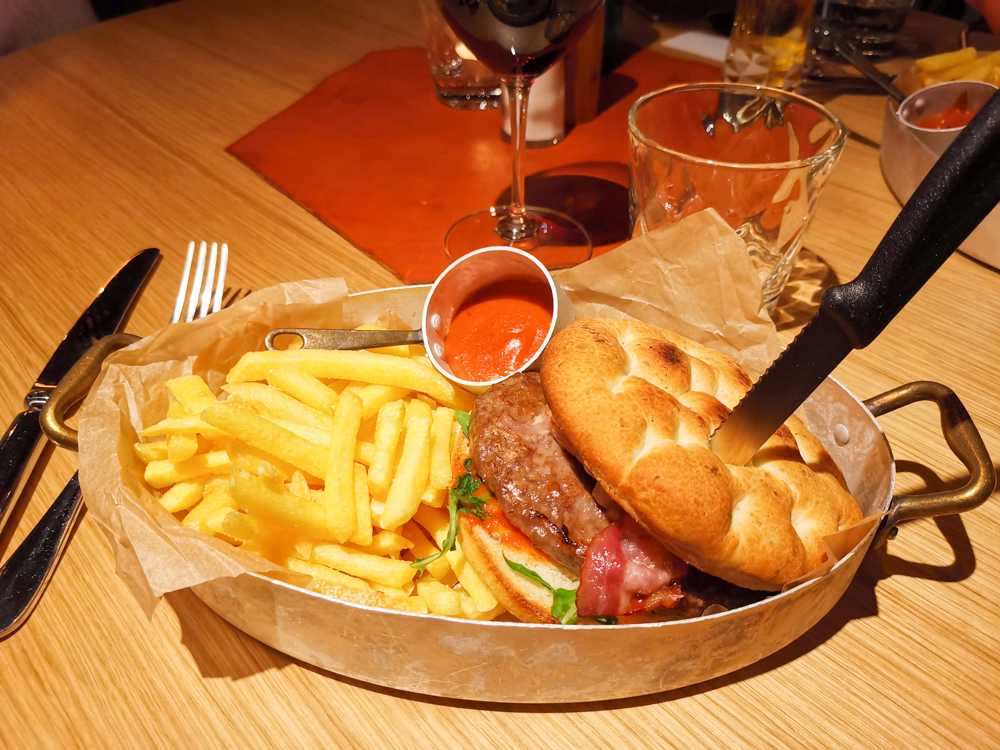 Hoteltipp Flims Schweiz: Perfekt frühstücken
Nach der gemütlichen Nacht lernen wir am nächsten Morgen doch noch die Räumlichkeiten des The Hide Dining kennen. Hier wird nämlich das Frühstück aufgetischt. Das Frühstücksangebot vom The Hide ist grandios und eher Brunch als Frühstück. Vom einfachen Salsiz – den du übrigens mit dem Schweizer Taschenmesser schneidest – bis zum Hummus und getrockneten Tomaten findest du hier alles. Am runden Tisch mit Eckbank in Samtstoff würde ich am liebsten den ganzen Tag verweilen und mir immer wieder etwas Köstliches vom Buffet holen. Aber ich glaube, du weisst, dass ich doch lieber auf Entdeckungstour gehe.
Ausflugtipp Flims Schweiz: Trutg dil Flem
Trutg dil Flem verstehst du nicht? Ich auch nicht, denn das ist Romanisch, die vierte Sprache, die in der Schweiz an einigen Orten im Kanton Graubünden gesprochen wird. Man hört sie nicht mehr so oft, aber hier oben in Flims eben doch manchmal. Mit Trutg dil Flem ist der Flimser Wasserweg gemeint. Eine wunderbare Wanderung, die dich in etwas mehr als vier Stunden vom Startpunkt in Naraus bis hinunter ins Tal führt. Der Wanderweg bringt dich auf über 13km von der Quelle des Flusses Flem möglichst nahe am Wasser über sieben Brücken zurück zum Ausgangspunkt. Wir machen heute nur mal die Hälfte des Weges. Dafür fahren wir gleich hinter dem Hotel mit der Sesselbahn nach Foppa. Von hier besuchen wir zwei der Brücken und wandern mit wunderbaren Aussichten auf Wasser, Natur und Berge zurück zum Hotel. Dann ist es bereits wieder Zeit für die Heimreise.
Hoteltipp Flims Schweiz: Unser Fazit zum The Hide Flims
Das Hotel ist stylisch gemacht und das Hotelzimmer wirklich perfekt. Was ich jetzt nicht ganz so prickelnd finde, ist die Einbettung in die STENNA Mall, die mir als Gast des Hotels immer mal wieder bewusst geworden ist. Das hat für mich das Gesamtambiente des Hotels etwas geschmälert. Aber das ist wahrscheinlich nur für mich nicht so ideal, weil ich einfach kein Shopper bin. Für dich ist der schnelle Zugang zu Shopping und Unterhaltung vielleicht genau perfekt.
Travel Sisi hat noch etwas Zusatzinfos zum The Hide Flims

So kommst du hin:
Films erreichst du vom Flughafen Zürich in unter einer Stunde mit dem Auto. Auch öffentlich kannst du den Bergort mit Umsteigen in Chur auf das Postauto erreichen.
So schläfst du:
The Hide Hotel verfügt über 47 Zimmer. Sie befinden sich alle auf der obersten Etage des Stenna Gebäudes. Es gibt Doppelzimmer mit Tal- oder Bergsicht. Oder dann noch mehr Platz in der Junior Suite.
Das kostet die Unterkunft:
Das Doppelzimmer mit Frühstück gibt es ab CHF 340 pro Nacht für 2 Personen.
Das isst du:
Im Übernachtungspreis ist ein feines Buffet-Frühstück inklusive. Mittags und abends isst du locker lässig im The Deli oder schicker im The Hide Dining.
Das findest du in der Umgebung:
Die Bergbahnen von Flims starten direkt hinter dem Hotel. Für deine Winterausrüstung hat es sogar Inhouse einen speziellen Raum, der dir ganz bequem Ski In/Ski Out ermöglicht. Ganz egal, ob im Winter im Schnee oder im Sommer im Grünen unterwegs bist, Films bietet viele tolle Erlebnisse. Der Caumasee ist himmlisch und mein Schweizer Lieblingssee, der Crestasee, im nahe gelegenen Trin darfst du nicht verpassen. Mit der Übernachtung im The Hide erhälst du die Gästekarte für Flims und somit viele Ermässigungen in der Region. Details zur Destination Flims findest du hier.
Wann reist du am besten:
Das The Hide Hotel ist ganzjährig geöffnet und die Destination Films bietet zu jeder Jahreszeit viel Schönes zu erleben.
Für wen ist diese Unterkunft geeignet:
Dieser Unterkunftstipp ist für Gäste geeignet, die eine stylische Unterkunft mit Spa und Zugang zu Shopping und Unterhaltung mitten in den Bergen suchen.
Wo gibt es mehr Infos:
Auf der Website vom The Hide Hotel Flims findest du alle weiteren Infos. Hier* kannst du deine Übernachtung auch gleich direkt buchen.
Hast du bereits in Flims übernachtet? Kennst du das The Hide? Was war deine Erfahrung? Oder hast du einen anderen schönen Hoteltipp Flims Schweiz? Hinterlasse mir doch einen Kommentar, damit auch andere Leser davon profitieren können.
Happy stay in Flims,
deine Travel Sisi
Dir gefällt dieser Artikel? Möchtest du noch mehr Tipps für Unterkünfte und Interessantes aus Europa und aller Welt erfahren? Damit du nichts verpasst, folgst du mir am besten gleich mal auf Facebook, Twitter, Pinterest oder Instagram. Ich freue mich auf dich!
Like it? Pin it! Vielleicht schaust du auch vorbei auf meinem Pinboard mit weiteren coolen Hoteltipps? Da sind viele prima Sachen mit dabei.